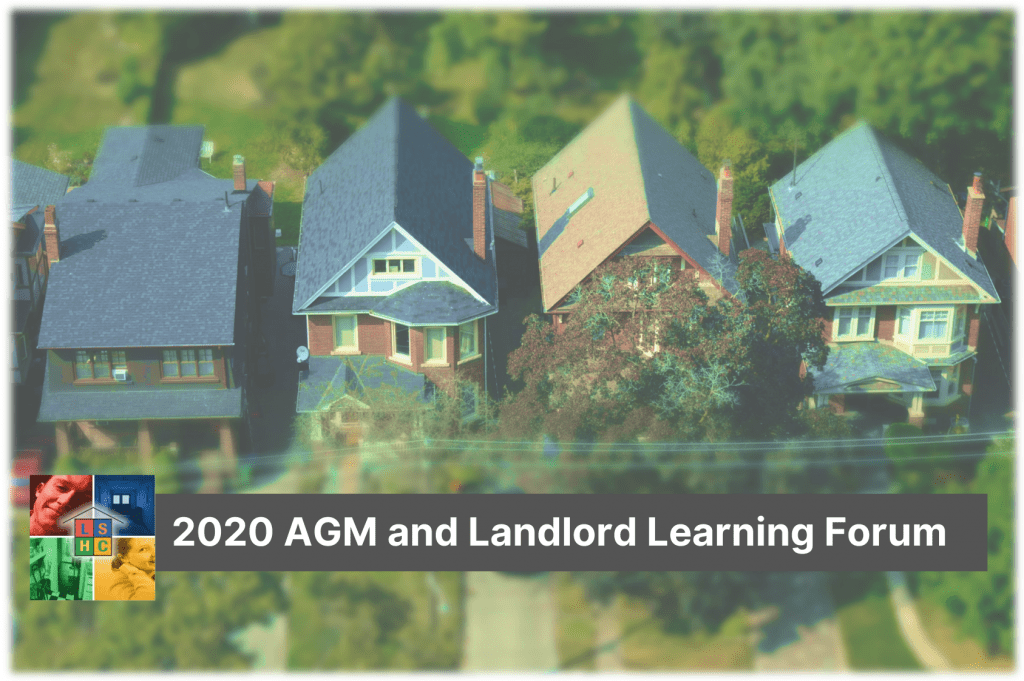 LSHC held its 2020 Annual General Meeting and Landlord Learning Forum on October 22, 2020. The theme for this year's Learning Forum was Bill 184, the legislation that was recently passed to amend several provisions of the Residential Tenancies Act, 2006.
The AGM-Forum was held online this year to ensure health and safety concerns due to the COVID-19 pandemic were addressed, Zoom was used as the meeting platform. We are pleased to share the recorded components for the AGM-Forum below:
Welcome
EARLY BIRD LEARNING: The New Way to Recover Monies Post-Tenancy
Jane L. Ferguson, Toronto lawyer and Deputy Small Claims Court Judge, speaks about forthcoming changes under Bill 184, talking points include: Unpaid Utility Costs; Split Jurisdiction No More; and "Damage" vs. "Damages" in this educational presentation.
LSHC Business Meeting:
The business portion of the LSHC's Annual General Meeting includes the President's Report; adopting the minutes of the Oct. 24, 2019 meeting; appointment of Hilborn LLP as auditors for 2020-21; and approval of the Slate of Nominees for the Board of Directors.
Address from the Honourable Steve Clark, Minister of Municipal Affairs and Housing
The Honourable Steve Clark, Minister of Municipal Affairs and Housing addresses members of the Landlord's Self-Help Centre for the 2020 AGM and Landlord Learning Forum
BILL 184: THE GOOD, THE BAD AND THE UGLY
Petar Guzina, lawyer and former Landlord and Tenant Board Adjudicator, provides a comprehensive overview of changes under Bill 184 and explains the impact the changes will have for small landlords.
Closing
Evaluation
We invite your feedback using our online evaluation form
Resources: We have included links to a variety of resources below: